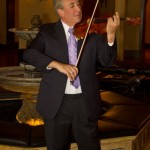 Violinist Mischa Lefkowitz has more than 130 YouTube violin videos – check out the videos below and visit his YouTube channel to see more!
Don't forget to visit his discography page to see what recordings he has available for download and his blog to see what Mischa has been up to lately.
My YouTube Violin Videos
Giardini – Concerto in A Major for Violin & Orchestra, I. Allegro moderato
Felice Giardini (1716-1796) was one of the greatest violinists and composers of his time.  He wrote theatrical operas, oratorios, concertos and sonatas for the violin including duets, trios, quartets and many other instrumental compositions.  Violinist Ettore Bonelli (1900-1986) found the single solo violin part only of this piece in the National Library Marciana in Venice.  He arranged the instrumental score to include instruments of Giardini's time: strings, two oboes and two horns.
Max Bruch – Kol Nidre
Kol Nidrei by the German composer Max Bruch is a work originally composed for cello and orchestra, but here I'm of course playing it on the violin and being accompanied by Kevin Garnica on the piano. It's a beautiful work that refers to the prayer said at Jewish synagogues before Yom Kippur services. You can learn more about the piece here.
Bach – Chaconne from Partita for Violin No. 2, BWV 1004
The Chaconne from Bach's Partita for Violin No. 2 is one of the most famous works for the violin by the great composer, if not any composer in history. Violinist Joshua Bell said about the work "[The Chaconne is] not just one of the greatest pieces of music ever written, but one of the greatest achievements of any man in history. It's a spiritually powerful piece, emotionally powerful, structurally perfect…"
Sibelius – Concerto in D Minor, Op. 47, Allegro moderato
What else can be said about Jean Sibelius' Violin Concerto in D Minor? It's the only concerto the Finnish composer ever wrote, but it's one of most demanding violin concertos ever written. It's been recorded by so many famous violinists, from Jascha Heifetz to Itzhak Perlman to Gil Shaham, so I hope you enjoy my version of it.
Mozart – Violin Concerto N5 in A Major, K219
Mozart's Violin Concerto No. 5 is sometimes called his "Turkish" violin concerto and was composed by the great Austrian composer in 1775. The piece is called his "Turkish" concerto because of a part of the rondo Finale where the time signature switches and a section of "Turkish" music is played. Of course, "Turkish music" wasn't music from Turkey, but a form of music that was popular in the 17th and 18th centuries called Alla turca that was meant to emulate Turkish military music. Mozart returned to Alla turca in his opera, The Abduction from the Seraglio and his Piano Sonata in A.
Sarasate (his full name was Pablo Martín Melitón de Sarasate y Navascués, but we just call him Sarasate for obvious reasons) was a Spanish composer and violinist who lived from 1844 until 1908. He was first and foremost a violinist, and it's said that the playwright George Bernard Shaw once said that there were many composers of music for the violin, but the was one of a few composers of violin music.He mostly wrote music that showed off how well he could play the violin, and this piece is no exception. I recently released a recording of this work that you can download here.
John Williams – Theme From Schindler's List
What a moving piece of music! From the Oscar-winning Steven Spielberg film Schindler's List, this John Williams-composed theme is short but powerful. It was originally played by the great Itzhak Perlman on the soundtrack. It's a pleasure to play music by John Williams, who is one of the great living composers and someone I always enjoy playing with every summer with the Los Angeles Philharmonic at the Hollywood Bowl.