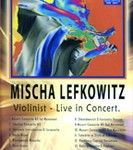 I'm happy to announce another upcoming release – however, instead of a CD or song download, this time it's a full-length DVD that I'm releasing. The title is Mischa Lefkowitz Violinist – Live In Concert and it features recent performances of some of my favorite pieces to play on the violin. Itcomes out on AUG 15, and you can buy the DVD here.
It's an eclectic mix of pieces by a variety of composer, but I think that you'll find some of your favorites in among the works. I've included performances of famous pieces that all fans of classical music should know. For example, there's music by Mozart, namely the first movement of his Violin Concerto No. 5, also known as his "Turkish" concerto; there's the third movement of Sibelius's moving Violin Concerto; and the Grave section from Bach's Sonata No. 2 for Violin.
There are also some lesser-known works on the DVD – works that I also love to play but might not be as known by a wide audience. For example, there's the great violinist Eugène Ysaÿe's Caprice After the Study in the Form of a Waltz, Op. 52, a work orginally written by Camille Saint-Saëns and arranged by Ysaÿe; and another lesser-known favorite of mine, Claude Bolling's Gavotte and Ragtime.
Mischa Lefkowitz Violinist Playing Saint-Saëns Caprice After the Study in the Form of Waltz (arr. Ysaÿe)